Do you want to be stress-free by paying all your credit card bills from one single place without missing any of them?
Do you want some extra benefits for paying your credit card bills in India?
You can keep track of all your card payments from one single place and you never end up missing out on any payments.
This app offers you rewards for paying your credit card bills. And in this blog, let's find out how it actually works.
CRED App Benefits
#1. Cashback on Paying Bills
You will earn cashback on your credit card bill payments. You will have the option to #killthebill after you have made a payment minimum of Rs. 1000.
It's like scratch cards, in which you could win cashback of up to 1,000. In the past, people could earn cashback worth Rs 1000 however now, the cashback does not exceed the amount of Rs 10.
You can earn up to 5 cashback scratch cards amounting to Rs. 1000 in one calendar month.
Additionally, you can earn scratch cards by paying credit card bills.
| | |
| --- | --- |
| After Paying Bill | Earn upto |
| 50000 | 100000 |
| 20000 | 10000 |
| 5000 | 5000 |
| 1000 | 1000 |
#2. Credit Card Payments
You can put all your credit cards within the app, keep track of the dates for payment due and pay your bills right from the app.
It is not necessary to check your credit card statements each month on its own. To pay, you can use the net-banking option or UPI apps.
The entire process of making payments is quick and easy.
#3. Free Credit Report & Score
You will be able to view your CIBIL rating and history of credit without cost. The app currently displays the credit score of Experian as well as CRIF.
You'll receive your first report free of charge. You can then see your score at any time by investing 1000 CRED points.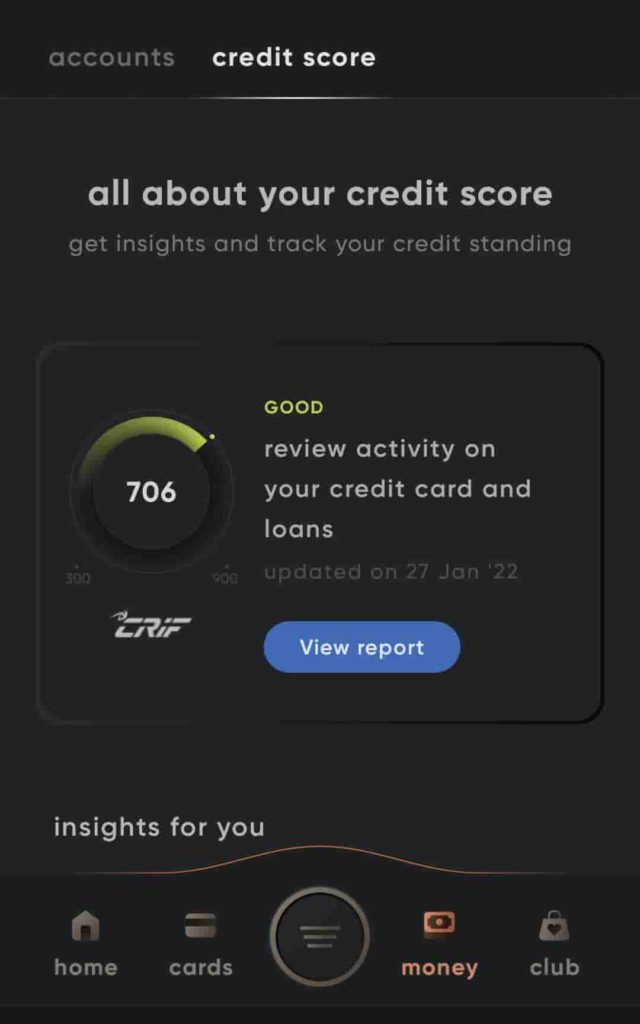 #4. Earn CRED coins to redeem gifts
You will earn CRED points equivalent to the amount of your credit card transaction.
As an example, you would earn 15,000 points of credit on a payment of Rs 15,000.
You can make use of CRED points for discounts on products. The deals change regularly.
#5. Rs 750 Cashback on referring your friends
You and your referred friends would earn cashbacks after their next bill payment.
You get Rs 750, they get Rs 250.
How to Start With CRED App
Click here to install on Android or iOS
After installation CRED app starts with your bank registered mobile number.
If the details of your mobile phone do not match the CIBIL report, or if your credit score isn't good, your application may get rejected.
If you have a good CIBIL score only then you will be approved.
If Approved
Add your credit card information.
The app will verify the credit card by putting the amount of Rs. 1 into your card.
Now you are ready to do your credit card bill payments.
If Rejected
Maybe you are using multiple mobile numbers, in that case, change your mobile number.
If contact details are correct, reach out to customer support.
And if your credit score is low then wait for a few months and then apply.
Improvements which can be done
#1. Regarding Email Access
CRED should partnership with the bank directly in order to get the credit card bill statement. In spite of that CRED asks for email access to get the details of the credit card statement. And it is a security concern for some people.
#2. Better Offers
There are some other shopping websites and apps for similar products for better-discounted prices which CRED provides under the reward catalog.
CRED should collaborate with some good companies that provide better deals that actually benefit the user. They should bring some exclusive good launch deals which benefit the customers as well as the partner companies.
Safety & Privacy Concerns
I am using this app to manage my credit card bills and get the benefits that I love. But there are some concerns as per my knowledge which I want to clarify.
#1. Email Access for Statement
Although CRED claims that they only read credit card statements in the email and nothing else but If there are critical informations in your email then I suggest you not give access to the CRED app. You will not get notifications of the credit card due date and amount only.
CRED must have established relationships with banks to receiving the credit card statement balance. They could develop an automated system that gets the authorization from the user to receive the data to the banks.
#2. Credit Card Information
We all know that without expiry date and CVV, nobody can misuse with our credit cards. For bill payments, we only need to add our credit card numbers in the CRED app and it does not save other confidential informations of credit cards such as expiry date and CVV.
 Thus, CRED app looks safe.
#3. Delayed Payment Credit
There could be delays in the process of showing the payment on your credit card statement. That's why, do not pay your charges of your credit card, the day before due date of bill payment. But, I've noticed that all the transactions that were made using CRED were reflected within the same day on my statement for my credit card.
To ensure that you're on the safe side, pay 2 days prior to the date of expiration for the credit card. I would suggest that you pay the payments to your credit cards as soon as possible.
#4. Failed Payment Refunds
Sometimes, payments do not go through and failed due to banking or some technical problems. Your money would be returned back into your bank account within one to three days (or quicker).
I personally never faced such issues but there are some people who faced this problem.
CRED is operated by trustworthy people , which means your money will be safe and return in your CRED account.
It's not pleasant when money is taken from your savings account, and you must wait a couple of days to receive it returned. I suggest that when you have a large amount to pay, then you should pay it in smaller amounts.
Verdict
The benefits of the CRED app are above and over the credit card rewards and cashback. There's no reason to not take advantage of the rewards and cashback that are earned from paying your charges via the app.
If you are going to utilize net-banking to pay for your credit card bills, so why not increase the benefits.
I'd give 3 stars out of 5 stars to the CRED app due to its stunning design, user-friendly payment system and the value in reward points. 2 points are deducted due to the inability to pay or delay of PassivePath readers and for the app not offering new and exciting deals to the customers.
These all are my individual experience, Use CRED app at your own risk.